Getting impressed by Asia, 1999/2001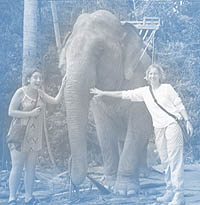 Asia became a continent where I contantly meet different people, but with whom I always stayed about a week.
Hongkong was just an amazing stop over where it rained all day long. I got so wet that I had to buy new clothes, since my luggage stayed at the airport. On my way back to the airport I saw a guy several times. When he finally sat down in the row in front of me in the plane I started talking to him. His name was Peter. His sister Sage was expecting him in Mumbai. I stayed with both.
Later I meet Ignacio and Massimo. And there was Kaye. I travelled with her to Thailand and enjoyed massages in Bangkok, before I went with Andrea for about a week to Ko Samui, followed by a week when Peggy came over to Bangkok from Germany. We were lucky to celebrate the millenium in Bangkok.
Singapur was a time to relax without permanent conversations with foreigners, the once that I had where great though. For instance, I visited a sikh temple and were invited for lunch. We talked about religion without prejudices.