Thailand 2004
date*


day
night
Sun
05.12.04
1
BerlinFrankfurt
FrankfurtDubai
Mon
06.12.04
2
Bangkok
Bangkok
Tue
07.12.04
3
Bangkok
Bangkok
Wed
08.12.04
4
BangkokAyutthaya
Ayutthaya
Thu
09.12.04
5
Ayutthaya
Ayutthaya
Fri
10.12.04
6
Ayutthaya
Ayutthaya
Sat
11.12.04
7
AyutthayaLopburiBangkok
BangkokKrabi
Sun
12.12.04
8
Krabi
Krabi
Mon
13.12.04
9
Krabi
Krabi
Tue
14.12.04
10
Krabi
Krabi
Wed
15.12.04
11
Krabi
Krabi
Thu
16.12.04
12
Krabi
KrabiBangkok
Fri
17.12.04
13
Bangkok
Bangkok
Sat
18.12.04
14
Bangkok
Bangkok
Sun
19.12.04
15
BangkokDubaiFrankfurt
FrankfurtBerlin
Mon
20.12.04
16
back at work!!!
* day.month.year
Stories of each day...
Day 1 - Getting from Berlin to Dubai via Frankfurt/Main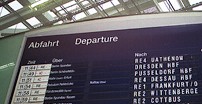 After packing in the morning I went to the train station. I was looking forward to going by train from Berlin to Frankfurt/Main within 4.5 hours, followed by 6 hours on a plane to Dubai and another 7 hours to Bangkok, which neither included the time to spend on the airports in Frankfurt and Dubai, nor the time I would need to get to and from the train station and the airport. Hurray!?
While checking in in Frankfurt, the flight assistant mentioned the possibility of a overbooked aircraft. If so and with my agreement, they would like to put me on a non-stop flight to Bangkok. Less time waiting in Dubai and earlier arriving in Bangkok?! Yes, do so! ... Unfortunately, they delightfull announced that there are enough seats to have a spare one for me. Urgs! But they change my seat No. from 32D to 9E, which meant that I was travelling to Dubai in Business Class. Hurray, again!
Day 2 - Getting away from Dubai and to Bangkok
Early in the morning I arrived on Dubai airport. I was pretty sleepy so after a few minutes walking in between the duty free shops I tried to rest a bit. In case that I would fall asleep I switched on my alarm clock. But I got on the plane without any problem and kept watching movies as I did before: "The Machurian Candidate", "Collaterial" and "Shark Tale". Only this time I had less space for my legs in Economy Class.
At half past six I arrived in Bangkok, catched the bus No. A2 that goes from the airport to the Khao San Road (Kao Sarn) and looked for an accomodation on that famous, crowded, touristy Khao San Road. The girl behind the reception looked beautiful and I obviously looked shocked when she started talking and I realized that "she" was a "he"!
Day 3 - Sightseeing in Bangkok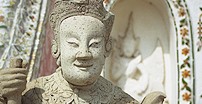 Early Tuesday morning I got up, had breakfast and went sightseeing with Wolfgang (Germany) whom I met on my way to Khao San Road on the day before. On the agenda were the Grand Palace, Wat Arun and Wat Po. The first on was to bright and gold but a must to see! The Esmerald Buddha can be seen in there in the Wat Phra Kaew. After the Grand Palace we were searching for the right ferry to cross the river Thonburi to get to Wat Arun. Last but not least was the Wat Po, for which we had to go back by ferry. I loved the Wat Po the most. Especially because of the huge, golden "Reclining Buddha" inside.
In the late afternoon, I enjoyed a oil massage and went shopping. I was looking for a bus map that can guide me the way to the Northern Bus Terminal the next morning. I found a blueish bus map that was detailed enough.
Day 4 - Sightseeing in Ayutthaya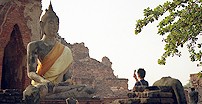 Getting from Khao San Road to the bus terminal took me 2 hours. The first fifty minutes I was waiting for bus No. 3, the next hour and ten minutes the bus was slowing heading to the bus terminal during rush hour. After arriving on the bus terminal it only took me 10 minutes to buy a ticket and find the bus and then the aircon bus left to Ayutthaya. I needed another 5 minutes to fall asleep ... and then somebody knocked on the window from outside shouting: "Get out!" When I finished my line whether this is Ayutthaya and watched the woman noding, the wheels were already turning again. I screamed: "Stop!"
After walking around for minutes haunted by tuk tuk drivers to find the way to the guest house "Tony's Plaza", I had a shower and a fruit salad - one after the other. Then I went to see some temples (wats) in Ayutthaya like the Wat Phra S. Sanphet, Wat Mongkhon Bophit, Wat Thammikarat and the one with the stone buddha head in a tree, the Wat Maharat. There a girl named Anja (Austria) has taken a picture of me. I saw her again in Tony's Plaza in the evening and we talked until midnight.
Day 5 - Sightseeing in the environment of Ayutthaya by bicycle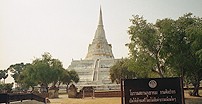 First thing after breakfast was renting a bike. Then I only had to get use to the piece of scrap-metal before I could enjoy the day trip to several temples outside the four rivers around the old town of Ayutthaya. First, I went to the north-west. The white one with a golden topping was the furthest away and only a few tourists were there. There was another temple named Wat Phanan Choeng in the south that I wanted to see but I desperately looked for a ferry sign. I passed the "boat" more than five times as I expected it to lead to touristy tour by boat. I was wrong!
After a shower and some rest in Tony's Plaza, I wanted to drive to the the Elephant Krall in the north and bumped into Wolfgang whom I met in Bangkok. While he needed a rest, I went watching the elephants. Then we took a tuk tuk together to a very beautiful wat in the south-east at sunset.
Day 6 - Public Holiday in Ayutthaya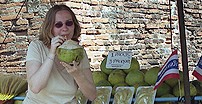 This morning I did not only had to get used to another piece of scrap-metal but to one without working brakes. Fantastic adventure! Anyway I joint Wolfgang this day and went to the temple area again. In addition to the usual temples we watch baby elephants for ages. I loved them. Later we did went to the tourist office and I got a useful information about puplic overland buses instead of the info we got from travel agencies, who just lied about the existence of such buses to the north.
In the evening went to the back of the Wat Maharat to see a Thai Show about Ayutthaya's history. Even though it was in Thai and I only understand the words "yes", "thank you" and "river" (you better don't ask why I do understand the last word!) it was easy figure out the meaning of the play by the gestures and the actors' interactivity on the stage.
Day 7 - Going further north and suddenly changing directions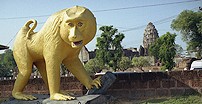 Even though I planned to go to Chiang Mai, I just made it to Lopburi, which is located 2 hours north/north-east of Ayutthaya and a stop worth when you are interested in watching monkeys at Praa Shine and in Phra Prang Sam Yod. That's it except for some more little temples. I went back to the bus station and did not buy the ticket to Chiang Mai after reading a friend email about the nice and warm south of Thailand. I had only 2 weeks in Thailand in December and after one week in cities I decided to have "real winter holidays" on a beach in Krabi!
I bought a ticket to Bangkok, did not fall asleep, changed the bus in order to get from the Northern to the Southern Bus Terminal via Khao San Road for a quick lunch and went crazy ... Why did I got stuck in a bus in Bangkok for more than two hours when I only needed 1 hour and 10 minutes for the other direction?! ... In Khao San Road I got something to eat from the street plus one of the usual fruits (like pineapple, papaya, water melon, honey melon or guave). Afterwards I headed to the bus No. 30 for the Southern Bus Terminal. I arrived quite early at half fast four, but that garantueed a free seat in the bus to Krabi at half past seven. I had enough time for changing my clothes, an iced coffee, a piece of pineapple and my travel guided before hoping on bord of the VIP bus.
Day 8 - Awful start of the day, but nice coming out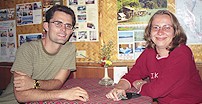 The bus arrived 4 km outside of Krabi at half past six in the morning and the taxi drivers came offering me their services at a really good price before I even had all my belongings together. I was the only foreigner on the bus and now circled by these taxi drivers. But they made some severe mistakes: They approached and surrounded me without being asked and didn't stop after I told them to do so. Hey, I just got off the bus after such a long ride and wasn't in the mood to get overcharged. Even though it was very early in the morning and I was on my own I am not stupid enough to take the first "good" offer. After some minutes arguing I agreed on 30 Baht instead of 100 Baht and was driven to Krabi Town, where I immediately started looking for a bed. Fully booked! No, sorry! Finally I stopped at the Star Guest House, where they suggested to wait an hour. I agreed because they let me have a shower which lightend my mood. While waiting I booked the four island tour. In the restaurant of the guesthouse some people ordered breakfast, so did I. I joint a guy named Mark (USA) after he asked me something about Krabi. He was the one whose room I took, because he had found a cheaper place around the corner.
Then it was time for the day trip and I went to the beautiful islands and beaches in Krabi with a young Thai couple and the crew of the longtail boat. Most impressive was the snorkeling. I never did it before, but the clear water and the colourful fishes were fantastic. I loved the part when we jumped off the boat as there was no beach nearby. Difficult was to climb back on the boat. All what was left of the excausting and wonderful day was a nice dinner with Mark whom I met at breakfast time.
Day 9 - Sunbathing and Kayaking
Something I hardly do is sunbathing and I am not good at it. Ask my friend Peggy to had to stand me after getting terribly sunburned earlier this year in the U.S. So I deciced to lay down in the shade shortly after arriving at Railay Beach. Later Mark and I went to explore the beaches in that area. On our way to Pranang Beach we watched some rock climbers improving their technics.
Instead of staying on Pranang Beach we went back to Railey to rent a kayak and paddled to several caves. With each cave Mark sounded more enthusiatic about our kayaking, as he did not loved the idea in the first place due to his low budget. I enjoyed watching with him some more rock climbers on a wall where you only can get to by kayak.
Day 10 - Krabi Town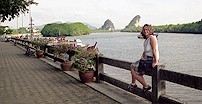 After waking up with aching muscles and too much sun on my skin I decided to stay in Krabi Town. I went into the mall and walked through the streets before I went to the habour and opened my book. Two Thais came to me to tell me were I should go to. After telling them with a smile that I obviously don't want to go anywhere I tried to ignore them and kept reading my book, when one of them suddenly spoke to me again ... ups, it was just Mark!
In the evening, Vera (Switzerland) whom I met in the Guest House joint Mark and me for dinner and I joint her on the day trip the next day. She was pretty exhausted and left us pretty early so afterwards only Mark and I went watching "Mr. Incredible".
Day 11 - Hong Island Tour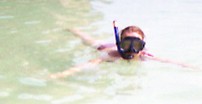 It should have been the continuing story of me loving to swim and snorkel. I enjoyed the kayaking, planting a mangrove tree, touching a star fish, seeing a comovaran, but Mark obviously got more out of his money doing a rockclimbing course on Railay Beach. Vera and I were quite disappointed about the dirt of the water and destroyed underwater world on Hong Island. This time, snorkeling wasn't fun at all. Best part was having a nap on the way back to Ao Nang Beach.
Back in Krabi we had some time left before dinner and sat down on the balcony, where Immanuel (Israel) joint in. He was quite talkative and I was a bit tired, a not so good combination! At dinner time we went to the market on the habour. In the end dinner was a disaster for me and Vera, but Immanuel and Mark, I insist that neither Vera nor I freaked out!!! ;-)
Playing "Shit head" later in the evening woke me up and made a lot of fun.
Day 12 - Ao Nang Beach Day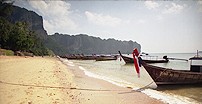 So this was my last day in Krabi, where I actually had planned to stay only for two nights in order to see Phuket, too. I spend some time on the Ao Nang Beach. We went further and further away from all the longtail boats, who made terrible noise and polluted the water, only to go all the way back and forth, as I did some souvenir shopping for an hour to avoid the midday sun.
Back in Krabi Town I had once more a really tasty "Yellow Curry with Tofu and Rice" at the Siboya Guest House before I took the bus to Bangkok at 4 p.m., in which I kept reading and reading "Bridget Jones - The Edge of Reason" until 11 p.m., then I fell asleep. Instead of having enough time to sleep until our arrival at 6 a.m. the bus came to a full stop at about 4 a.m.! Hugh? Bangkok, Khao San Road!!!
Day 13 - Souvenir Shopping in Bangkok
This morning, I have learned that it is not always good to take the first available room. My happiness about finding a single room at a reasonable price at 5 a.m. changed after I recognized that everyone was awake, opened and closed doors on my floor. I learned that just minutes before two guest were fighting in my room. Ah, that's why the broken mirror in there! And when I moved in everybody was scared that they came back, but curious enough to open their doors to have look.
On my agenda for this Friday was souvenir shopping, looking for CDs and visiting an internet café. I added another oil massage and I even entered unintentionally Chinatown while walking through the street without a map.
Day 14 - luxury day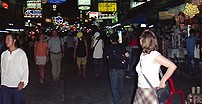 My visit at the weekend market in the morning near Northern Bus Terminal was rather short, because of the crowd, but it was fun to see all the souvenirs, clothes, food and people. Instead of walking around the Siam Square a bit more, I returned to Khao San Road soon after lunch. I felt to exhausted.
My holidays were about to fade to grey but not without extra time to spend money for goods and for an oil massage, a food massage, a manicure and a pedicure. During the foot massage the guy next to me fell asleep and began to snore. The rest of us in the room had fun listening to him.
When my backpack was packed, I allowed myself to rest one hour before finally walking to the guest house where I bought a ticket for the airport shuttle bus at midnight. I arrived about 1 o'clock at the airport but could not check in before 3 o'clock, the aircraft was schedule to leave at 5.30 in the morning. I managed to stay awake before checking in, but as soon as I arrived at the gate, I fell asleep. Of course, I woke up in time. It was too difficult to stay asleep, because it was too freezing cold (thanks to airconditioning) and I was shaking to much as if my body could ignore that I was not in a nice and warm bed!
Day 15 - Travel Marathon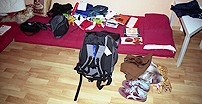 From Bangkok to Dubai, from Dubai to Frankfurt and from Frankfurt to Berlin - that was the plan. I didn't watch any movie on the plane and missed some meals because I tried to rest as much as I could. Anyway, most of the movies I had seen before. Dubai was nicer on my way back because I made more out of the time I had. I watched people and went through the shops.
When I finally had arrived in Frankfurt, had passed the pass controll and had claimed my baggage, I had to face another problem: The line at the customs was immense. One line was formed and nobody was allowed to pass without a look into at least one piece of baggage. Just great when you need to catch a certain train. I missed it.
The man at the custom was only interested in my plastic bag that contained a fleece jacket, a souvenir from Dubai and some chewing gums. Then I could pass, catch one train to the main train station and from there I direct train to Berlin one hours later than planned. I arrived at about 1 a.m. at Berlin's train station "Ostbahnhof" and needed to get home pretty quick. They expected me at work at 9 a.m.!
Day 16 - Back at Work
What did you expect? Me, awake? Okay, kind of! I managed to get up at 7.45 a.m., stay awake until 6 p.m. and not to do too many or severe mistakes (just kidding!) at work.